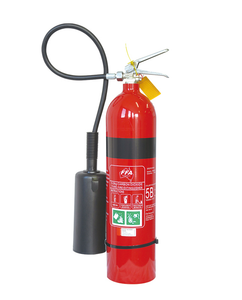 Our 5KG Carbon Dioxide (C02) Extinguisher is the largest product of our CO2 Fire Extinguisher range to handle class B (Flammable liquid) and class E (energised electrical equipment). The 5KG C02 is ideal for areas such as laboratories and server rooms that can handle and protect a large amount of live equipment. Unlike the foam extinguisher, the CO2 Fire Extinguisher's fire-retardant material and gas nature are engineered to remove heat that leaves little cleanup and protects any valuable electrical equipment from potential damage. 
The 5KG CO2 Extinguisher has the highest extinguishing capability that will prevent a fire from spreading.   
Our C02 extinguisher range is approved and certified to Australian Standard AS/NZS 1841.6.  
Hydrostatically tested to the highest rating standards 
Other sizes available are 2kg and 3.5kg  
Supplied with wall brackets for easy installation.   
Features:  
Lightweight, high-quality seamless aluminium cylinder construction   
High-quality brass coated valve construction 
High-pressure hose with horn type nozzle end  
Stainless Steel Handle Finish   
AS/NZ Certified  
Suitable for:  
CLASS B (Flammable Liquid such as a gasoline, petroleum greases, oil-based paints)  
CLASS E (Energised electrical equipment such as computers, servers and motors)  
Best Use For:   
The 5KG CO2 Extinguisher is suitable for any area where there is a lot of live electrical equipment such as computers, printers, screens and must be near switchboards. Areas include:  
Small to Large Sized offices  
Industrial Areas  
Shops  
Server rooms   
Laboratories  
Factories  
Vehicles with Electrical Equipment (specialised for an outside broadcast vehicle and electrical contractors)   
What is included:  
5KG CO2 Fire Extinguisher   
1 Wall Bracket   
1 Maintenance/Service Tag   
1 Security Seal Tie  
 
CERTIFIED AND APPROVED TO AUSTRALIAN STANDARDS AS/NZ 1841.6  
TECHNICAL INFO
| | |
| --- | --- |
| Model Number | FFA50CO |
| Agent Capacity | 5kg |
| Agent Type | Carbon Dioxide |
| Agent Manufacturer | Fire Factory Australia |
| Total Mass | 11.9kg Approx. |
| Fire Rating | 5B:E |
| Approvals | AS/NZS 1841.6 |
| Nozzle Size | 3 x 3.8.1 x 4.8mm |
| Discharge Time | 18 Seconds |
| Dimensions W x H | 150mm x 660mm |
| Cylinder Thickness | 6.02mm |
| Cylinder Pressure Test | 5 Yearly |
| Periodic Test Pressure | 21.5 MPa |
| Cylinder Contruction | Aluminum |
| Valve Construction | Brass |
| Cylinder Finish | Powder Coated Red |
| Handle Finish | Stainless Steel |
| Valve Finish | Plated Brass |
| Bracket | Wall |
General Information:  
Carbon Dioxide (C02) extinguishers are a popular choice for spaces where there is electrical equipment. The CO2 extinguisher work to smother flames of oxygen. Once emitted, the carbon dioxide cools the fuel of the fire quickly- making it cost effective. 
(FFA50CO)