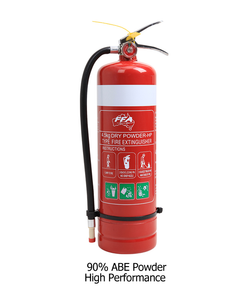 The 4.5 KG ABE Dry Chemical Powder Fire Extinguishers High Performance are one of our customer's most popular choice. Powerful enough to be mines compliant and versatile to be used in areas including shops, storage facilities and even machinery. They are ideal to handle class A, B and E fires quickly and efficiently at a wide range of temperatures. Due to their properties, they do leave a residue so they aren't suited for residential and office spaces but they provide can provide an incredibly high level of fire protection for times of need.   
Our ABE extinguisher range is approved and certified to Australian Standard AS/NZS 1841.5. Other sizes available are 1kg and 9kg.     
Features:  
Steel cylinder construction   
Powder coated with superior UV resistance to standard corrosive   
High-quality brass coated valve construction  
Stainless Steel Handle Finish   
AS/NZ Certified  
Portable Use  
Suitable for:  
CLASS A (Ordinary combustibles including wood, paper, textiles and many plastics)  
CLASS B (Flammable Liquid such as a gasoline, petroleum greases, oil-based paints)   
CLASS E (Energised electrical equipment such as computers, servers and motors)   
Best Use For:  
Mines  
Manufacturing   
Industrial  
Factories  
Trucks  
Construction sites   
What is included:  
4.5 KG ABE Fire Extinguisher High Performance  
1 Wall Bracket  
1 Maintenance/Service Tag   
1 Security Seal Tie  
CERTIFIED AND APPROVED TO AUSTRALIAN STANDARDS AS/NZ 1841.5 
| | |
| --- | --- |
| Model Number | FFA45ABEHP |
| Agent Capacity | 4.5kg |
| Agent Type | ABE Dry Chemical Powder |
| Agent Manufacturer | Fire Factory Australia |
| Total Mass | 7.14kg Approx. |
| Fire Rating | 4A:80B:E |
| Approvals | AS/NZS 1841.5 |
| Nozzle Size | 5.0mm |
| Operating Pressure | 1344kPa |
| Discharge Time | 15.8 Seconds |
| Dimensions W x H | 140mm x 515mm |
| Cylinder Thickness | 1.20mm |
| Cylinder Pressure Test | 5 Yearly |
| Periodic Test Pressure | 2.5 MPa |
| Cylinder Contruction | Steel |
| Valve Construction | Brass |
| Cylinder Finish | Powder Coated Red |
| Handle Finish | Stainless Steel |
| Valve Finish | Plated Brass |
| Bracket | Wall |
General Information:  
ABE Dry Chemical fire extinguishers are incredibly versatile and are effective in treating class A, B and E fires. Dry chemical extinguishers can arrest fires quickly by using a retardant that flows easily from the tank and melts over the flames. 
(FFA45ABEHP)