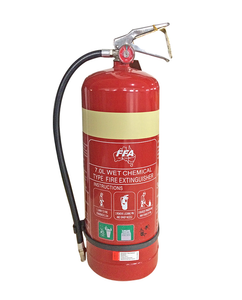 Our 7.0L Wet Chemical Fire Extinguishers are designed during times of cooking heat in large spaces. They are the perfect solution for kitchen ranges where oils such as lard, olive oil, maize and butter are being used daily. Due to their potassium element, they are perfect to combat class A and F fires in kitchen areas including cafes and kitchens. 
Our 7.0L Wet chemical extinguisher is approved and certified to Australian Standard AS/NZS 1841.3
Supplied with a wall bracket for easy installation. 
Features: 
Powder coated with superior UV resistance to standard corrosive  
High quality brass coated valve  
Stainless Steel Handle Finish  
AS/NZ Certified 
Used for up to 25L of cooking oil 
Suitable for: 
CLASS A (Ordinary combustibles including wood, paper, textiles and many plastics) 
CLASS F (Cooking Oils and Fats such as lard, olive oil, maize and butter)  
Best Use For: 
Warehouses 
Storage units (not with electrical equipment or heavy machinery) 
Paper mills 
Textile Factories  
House Living Rooms  
What is included: 
7.0L Wet Chem Fire Extinguisher  
1 Wall Bracket 
1 Maintenance/Service Tag  
1 Security Seal Tie 
CERTIFIED AND APPROVED TO AUSTRALIAN STANDARDS AS/NZ 1841.3 
| | |
| --- | --- |
| Model Number | FFA70WC |
| Agent Capacity | 7.0 Litres |
| Agent Type | Wet Chemical |
| Agent Manufacturer | Fire Factory Australia |
| Total Mass | 10.15kg Approx. |
| Fire Rating | 3A:4F |
| Approvals | AS/NZS 1841.3 |
| Nozzle Size | 2.3mm |
| Operating Pressure | 1000kPa |
| Discharge Time | 35.4 Seconds |
| Dimensions W x H | 185mm x 600mm |
| Cylinder Thickness | 1.40mm |
| Cylinder Pressure Test | 5 Yearly |
| Periodic Test Pressure | 2.5 MPa |
| Cylinder Contruction | Steel |
| Valve Construction | Brass |
| Cylinder Finish | Powder Coated Red |
| Handle Finish | Stainless Steel |
| Valve Finish | Plated Brass |
| Bracket | Wall |
(FFA70WC)